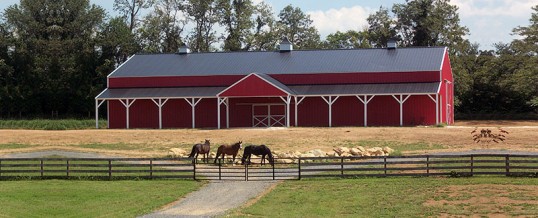 Extra Strong Farm Buildings for Sale in Central Colorado
How much more efficient will your farming operations the if you add one or two more farm buildings? Extra protected space could easily boost production and profits. Pole barns and specialized farm buildings add the much-needed work areas to improve large or small farming businesses.
Properly designed, custom pole buildings answer a variety of quandaries. Let's discuss some of them.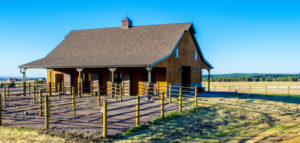 Offices and Storage
The interior aspects of pole buildings can be designed to include several activities. Depending on the size of your farming operation, one or several offices, kitchen, bathrooms, storage, etc. may be included. In Colorado, many farmers appreciate being able to take care of business minimal traveling between buildings.
Plant and Animal Care
Although commercial operations may concentrate on a few crops or types of animals, family farms often mix it up. Regardless, caring for young plants and storing seeds can happen under the same roof as the harvest and sales. Another portion of the building or a separate livestock building may be required for animals. Animals can be isolated in an infirmary or groomed in a wash room. These types of thoughtful designs come together in a custom farm building. It makes it easier for the farmers, for crop production, for gardening, and animal care.
Equipment Storage and Maintenance
It is essential to store farm equipment properly. Garage storage will reduce the amount of maintenance required. Vehicles stored inside will also last longer. In addition, a mechanic or shop hand can conduct regular maintenance indoors, caring for tractors, balers, and trucks.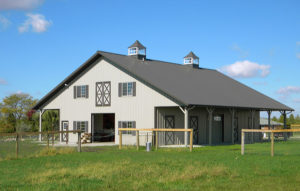 The roof pitch and tall ceilings inherent in the post-frame architecture allows for the necessary oversized doors for easy access. Our extra strong farm buildings for sale in central Colorado can be ordered with the new patented farm door.
Ventilation and Insulation
Other important factors to a good, strong barn: ventilation and insulation. The best methods to improve these have been discovered by our engineers over more than half a century of barn building. We engineer each board, fastener, truss—every component of the building—to suit the custom design. To withstand Colorado winters, these outbuildings may be insulated to improve energy efficiency. Passive elements such as windows, doors, awnings, porches, and other design elements also help to bring these buildings into the 21st century.
For information about Colorado farm buildings, pole buildings, pole barns, and metal buildings for Storage, Hobbies, Farm & Ranch, Livestock, Equestrian, and Commercial uses, contact Sapphire Construction, Inc. at (303) 619-7213. Our team custom designs each building using high-quality, engineer-tested materials from Lester Buildings.