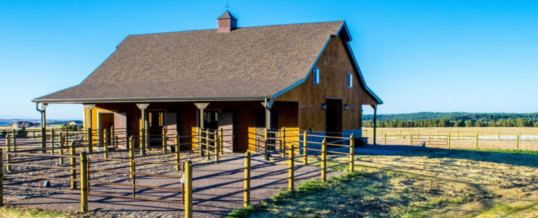 Workable Farm Buildings Designed to Accent Colorado's Open Range
A new farm occasionally starts up in Elbert County. And its owners need new farm buildings to facilitate operations. Elbert County is a quiet community of 25,000 on about 2000 square miles. Located just east of Castle Rock, Colorado, its farms flourish here where the Rocky Mountain foothills leave off to meet the plains. Come look at our communities, Elizabeth, Kiowa, Simla, Elbert, Ponderosa Park.
Our farmers here want doable lifestyles. General farming operations may need storage, dairy or livestock facilities, seed development, and the like. They want good buildings that enhance work flow, eliminate extra work, and look mighty fine against the big clear skies of Colorado. So, we sit down with our client farmers to create outbuildings that will enhance the farming operations and, at the same time, buildings that accent Colorado's open range.
How to Make Farm Buildings More Workable
When designing your functional indoor space on a farm, it is important to list each purpose for the building. There are many aspects to farming and the list may be long. Small farming operations may fit under one roof. These may include storage, maintenance, heated areas, machine and equipment storage, grain storage, and seed or commodity storage.
But if you grow your farm business. Then you may need a couple of complementary buildings. Large equipment takes space, large doors, maybe with a heated mechanics area for maintenance. Add the offices and grain storage silos out back and you've got a pretty clean set up. Another building may be dedicated to animals or livestock and may not require insulation.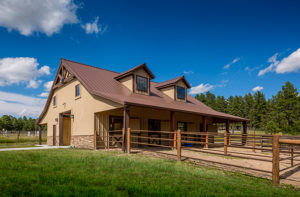 Truthfully, the professional team of architects and designers and builders at Sapphire Construction, Inc. in Castle Rock are raring to put your needs—and dreams—into a 3-dimensional software program. Then we can move the puzzle pieces around in real time to bring out the best solutions for your farming operation.
Good Looking Colorado Outbuildings
Add the electronically applied exterior and interior color and material choices and you will see the new farm buildings appear before your eyes. After the details are worked out, we order the specially engineered components and get going on the site plan.
For information about post frame construction and pole and metal buildings for Storage, Hobbies, Farm & Ranch, Livestock, Equestrian, and Commercial uses, contact Sapphire Construction, Inc. at (303) 619-7213. Our team custom designs each building using high-quality, engineer-tested materials from Lester Buildings.