Where Can Your Wheels Find Colorado Scenic Byways?
Retiring and want to get into restoring cars? Where will you drive your roadster? Here are some clues to help your wheels get rolling along Colorado Scenic Byways. But first, we will introduce ourselves. We build automotive shops and outbuildings along the Colorado Front Range. The custom garages can be plain and simple–or they can acquire a personality of their own. Blend into your neighborhood or stand out on the hillside. Perhaps one day your auto will be cruising for the Colorado Grand.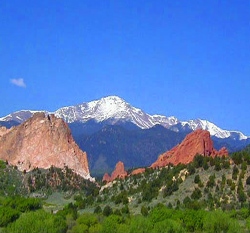 What are Colorado Scenic Byways?
Short for Colorado's Scenic and Historic Byways, the Scenic Byways were established in 1989. There are 26 Scenic Byways in Colorado; 11 of them are designated as America's Byways. What does this mean to those of us who love restoring cars? We have more "local" beauteous roadways to explore than our fellow hobbyists living in the other 50 states.Scenic Byways Closest to Denver
Several of Colorado's Scenic Byways can be found within a one-hour radius around Denver. Lariats Loop is just outside the 285 Corridor. Mount Evans and Guanella Pass are west of the Mile High City, just off Interstate 70. Four byways are north of Boulder and Loveland. Try out your new wheels on the Cache La Poudre, Peak to Peak, Trail Ridge Road, and Colorado River Headwaters routes. You may need a Jeep during snowy weather.
Look to plains on the east side for the Pawnee Pioneer Trails. This route extends 128 miles through the rugged Colorado Piedmont. Traverse the wide-open span of prairie grass under the Pawnee Buttes, a perfect habitat for coyotes, prairie dogs, rattlers, pronghorn, and the like. You can stop at the Overland Trail Museum and Fort Morgan Museum to get a taste of early American history.
Rocky Mountain Byways
Heading farther into the mountains, you will find more fabulous roadways. If your old car cannot handle the winter weather, anticipate the glories of springtime. That gives you longer to get going on the restoration, but call soon to find out about options for your automotive shop.
Northwest Byways include Colorado River Headwaters, Grand Mesa, Top of the Rockies, and Dinosaur Diamond. Southwest Byways include Tracks Across Borders, Trail of The Ancients, Unaweepe/Tabeguache, West Elk Loop, San Juan Skyway, and Alpine Loop. Each of these routes is worth a day or two of exploration.
For information about Colorado garages and auto shops, pole buildings and barns, and metal buildings for Autos, Storage, Hobbies, Farm & Ranch, Equestrian, and Commercial uses, contact Sapphire Construction, Inc. at (303) 619-7213. Our team custom designs each building using high-quality, engineer-tested materials from Lester Buildings.