The Latest for Your New Outbuildings in Colorado
At Sapphire Construction, we are grateful for the strong relationship with Lester Buildings. Our teamwork helps bring to you the latest improvements in pole barn construction. The unique engineering and time-tested materials we use for your new outbuildings in Colorado adds significant value to your land.
Constructing pole barns is our great love and we are here to tell you why. We work with each client to customize what may seem to be a simple metal building. How is it customized? Our clients tell us what they need. They enumerate the space needed for hobbies and activities. Some spaces may be for work, others for play.
High Quality – Durable – Lifetime Warranty
Regardless of why you need a pole barn, Lester Buildings promises a lifetime warranty for this high-quality building. A long list of the latest technical specifications must be satisfied for each one. For one, each component used during our pole barn construction process works together with other parts. The entire system is engineered.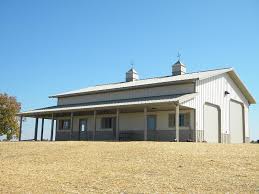 Then, exacting foundations are imperative. These include posts anchored below grade for the clear- span truss roof or rafter-style roof, or posts anchored to the foundation. The lumber is even engineered. Framing includes interlocking wall systems. Superior strength is achieved through processing raw lumber, stamping and certifying each board, and treating it with EPA approved products.
Steel panels are created from thick steel with strong tensile yield strength. These are coated with protective substrate coatings and paint systems. The trademarked Unit-Rib Steel option provides through-fastened roofs. The doors and windows are also integral to Lester's Lifetime Structural Design. And the insulation and vapor barriers are selected to enhance the purpose of each outbuilding.
Multi-Functional Outbuildings
Here in sunny, rainy, snowy, windy Colorado, it is indeed rare for us to build outbuildings that have only one function. People need indoor spaces that facilitate year-round activities. Using the pole building design, areas may be divided or partitioned off to accommodate additional activities. For example, a pole barn used for horses may include stables, and office, tack room, washroom, hay storage, and equipment storage. An occasional owner may want to put in a game room or a lounge.
One of our clients opted to build an outstanding auto shop to house his muscle car collection. The facility turned into a sort of showroom coupled with mechanics and paint areas – plus a retro bar. What could you imagine in your backyard castle?
For information about pole barn construction, pole buildings, and metal buildings used for Storage, Hobbies, Farm & Ranch, Livestock, Equestrian, and Commercial uses, contact Sapphire Construction, Inc. at (303) 619-7213.