Sapphire Builds a Dual Duty Private Airplane Hangar in Colorado
Sapphire Construction, Inc. recently built an airplane hangar in Colorado for private use. Truth be told. Airplane hangars require a lot of space, and some of that space seems like a waste. But it is needed to accommodate the large wingspan. So, our client requested a design that would allow his airplane hangar to do double duty.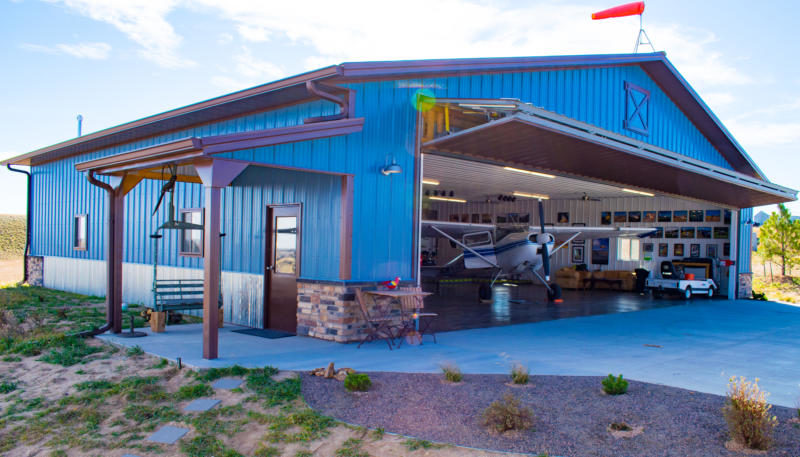 And then some. The new good-looking hanger was designed with blue exterior to complement the prominent blues used on the adjacent building. The slate blue is coordinated with galvanized, shiny silver wainscot and stone. These fortunate clients reside in a small, gated section of a neighborhood.
Dual Duty Plane Hanger Project
This outbuilding project consists of a private airplane hangar next to a home. The primary function of the building is to house the client's plane. In addition, they wanted an area for get-togethers with room for entertaining. Consequently, this special residential airplane hangar ended up with a corner stage set up to allow for live music. And there is room for storage and other activities. Why not? The plane can be rolled out of the way anytime friends take to the dance floor.
Shweiss Bi-Fold Door
To make it easy to taxi into the hangar, the designers at Sapphire Construction suggested installing a Shweiss bi-fold door. This special door does not rollback into the interior. Instead, it folds up like a visor. The large door allows for the airplane to get in and out quickly and easily.
For information about plane hangars and other types of pole buildings, pole barns, and metal buildings for Storage, Hobbies, Farm & Ranch, Livestock, Equestrian, and Commercial uses, contact Sapphire Construction, Inc. at (303) 619-7213. Our team custom designs each building using high-quality, engineer-tested materials from Lester Buildings.