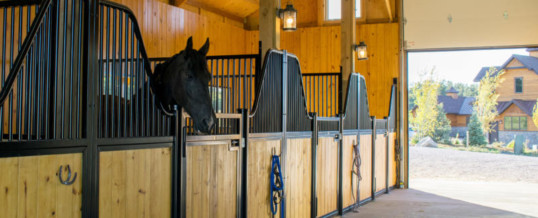 Horse Barns at Home Strike a Colorado Chord
Horses and Colorado are meant for each other. There is something harmonic about the sight of horse barns here in the Rocky Mountain foothills. Placed near homes on ranches or small acreage, these symbolic structures strike an accord that resonates well-being. So, it does not matter whether you ever mounted a pony or a Palomino or whether you sing or ride at the rodeo. Consider leaping into our world: the place where equestrian dreams come true.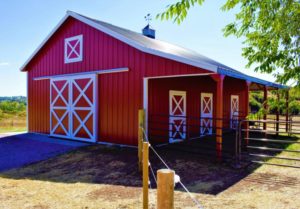 Our custom pole barns – designed huge or small – fit right in to the landscape, the skyline, the backdrop of Douglas County and nearby communities. The exterior design will blend with the neighborhood. No longer will your horse be kept in a plain old outbuilding. Your horse and its stables will bring your property up a notch. It will now reach Western standards.
Stables at home mean the horses will be cared for with all the love you or your family have time to give. Gone will be the days of needing to drive somewhere offsite to take care of your horses. Meander out the backdoor morning, noon or night. Imagine sitting out on a hay bale and plucking out a new tune in their honor.
Special Barns
The thing is, horse barns can be much more than a place for horses. Need an extra garage? Build your okay corral with a separate garage or auto shops inside. Need storage? We will add walls wherever you like. Because of the long winters here in Colorado, you can make your new custom barn multipurposed for more comfortable spaces for your hobbies.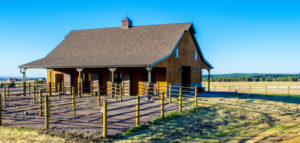 No matter how our clients design their equestrian facilities (with our team of professionals at Sapphire Construction), the building promises to strike a Colorado chord. It will find its perfect destiny. And, in the meantime, your property values will go up. If you need to sell in the future, these high-quality horse barns will pay you back.
For information about Colorado post frame buildings, pole buildings, pole barns, and metal buildings for Storage, Hobbies, Farm & Ranch, Livestock, Equestrian, and Commercial uses, contact Sapphire Construction, Inc. at (303) 619-7213. Our team custom designs each building using high-quality, engineer-tested materials from Lester Buildings.