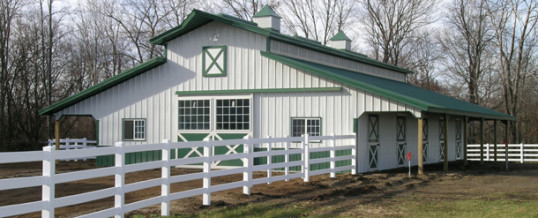 Forget Dank Air: Build Horse Stables with Proper Ventilation
Air quality is one of the most overlooked features of horse barns. That is why some of them are dank and odorous. Make sure your horse stables have proper ventilation. Horses may stand in their stalls for 15 hours a day. To stay healthy, these animals need fresh air and sufficient warm or cool air, depending on the season. Being penned in, they cannot pick up body warmth through exercise. In modern times, barn managers must pay attention to the needs of horses as well people.
Horse Stable Ventilation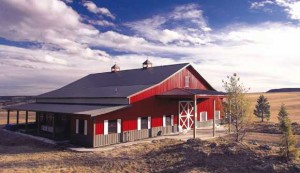 "Horse Stable Ventilation," an article by Dr. Eileen Wheeler, professor of agricultural and biological engineering at Penn State, outlines several important principles. Dr. Wheeler stresses the fact that barn ventilation is different than residential or commercial needs. These ideas have been incorporated into the architecture and design of Lester Buildings.
The basic principles outlined by Wheeler are incorporated into the custom barns manufactured by Lester. It all begins at the building site, and with the scope of the project. How many horses will be stables? What are the dimensions of the barn?
Here are a few more factors to aid in ventilation:
1. Plan inlets to bring fresh air into the building.
2. Mix outside and inside air.
3. Remove heat, moisture and pathogens.
4. Lower the temperature and humidity.
5. Keep contamination levels at a minimum.
6. Remove moist, contaminated air and odor through exhaust.
7. Drainage from indoor and outdoor soil conditions
8. Landscape to assist with drainage.
Natural Ventilation
A well-thought-out design will include natural ventilation, in many cases reducing the need for mechanical systems. What are examples of natural vents? We have had great success with the vented ridge cap and overhang system. It works beautifully for barns. A grilled stall bottom can help move air around the feet of the horses. Another assist, Dutch doors.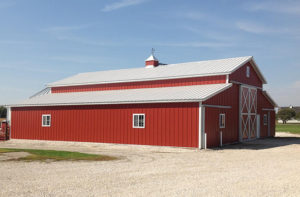 Nonetheless, many ranchers still want to completely insulate their barns and use power ventilation to make it more comfortable for the ranch hands. But with good planning, the stinky air will be nonexistent. Horses simply need dry stables with no condensation. Ask us to help fill their needs.
For information about horse stables and custom barns in Colorado, contact Sapphire Construction, Inc. of Castle Rock at (303) 619-7213. Our team custom designs each building using high-quality, engineer-tested materials from Lester Buildings.