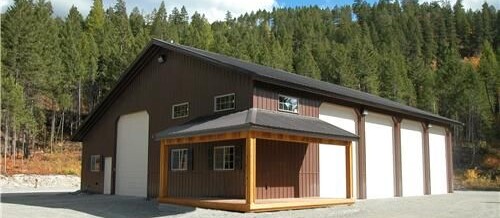 How Engineering Improves Colorado Pole Barns
The quality of Colorado pole barns varies significantly.  When properly engineered, the structures require little maintenance and last more than a lifetime.  However, many companies and builders advertise pole barns.  Buildings may look the same but have very different structures.  How can a property owner shopping for the best outbuilding discern the differences?  Here are 5 ways to measure construction quality.
Are All Components Engineered to Work Together?
Find out if the building systems are partially engineered or completely engineered.  If they are completely engineered, then all the components will be individually and precisely selected to work together. This is important.  If only the trusses are engineered and they depend on other weaker components for support, problems may easily arise.  The truss could be weakened.
Another common problem.  At times builders use engineered products—but they are not engineered to work together.  Look to be sure that the roof trusses, columns, footings, sheathing, purlins, and all connections fit perfectly together.
Will the Builder Clarify Meanings of Building Design Values?
Builders do not have the same understanding of design values although they may use the same terminology.  Find out exactly the loads (foundation design, wind, snow, and building live loads")" in any estimate.  These loads are multifaceted.  The snow load should include the ground snow load and the roof snow load.  The ground snow load is higher because the wind removes some snow from the roof.
Discover the Codes Used by the Builder

At times, the local building codes specify design minimums.  These vary by location and it might be necessary to hire a professional engineer to calculate the design loads.  Reputable builders constructing in areas exempt from codes follow the guidelines stated by the American Society of Civil Engineers Minimum Design Loads for Buildings (ASCE 7).
Make Sure All Components are Designed to meet Loads
Remove all risk of collapsing under severe weather conditions.  When the components of a building are engineered to work together, then every facet combines to create the high quality required.  This is an efficient and economically sound way to meet the wind and snow loads.
Check Engineering for Every Location in the Building
There is no such thing as one-size-fits-all.  Engineering assures that the building at every point can withstand different forces and loads.  Accordingly, each component must be custom selected to serve in a specific area.  If not, the sheer force of wind against a large building may pull up a column and its anchor.  This is especially problematic with three sided buildings.
For information about Colorado pole barns and metal buildings used for Storage, Hobbies, Farm & Ranch, Livestock, Equestrian, and Commercial uses, contact Sapphire Construction, Inc. at (303) 619-7213.  Our team custom designs each building using high-quality, engineer-tested materials from Lester Buildings.